San Francisco-based MAZAKALI is leveraging its extensive cannabis investment and fundraising advisory experience on the ongoing boom in the industry
The company foresees the Cannabis complex becoming a trillion-dollar market as society continues to adopt the plant's use for a large range of medical and industrial purposes
The inauguration of President Joe Biden is ushering in an era of federal government in which cannabis-friendly officials are being named to key advisory positions in his cabinet and the Democratic Party
Cannabis is currently legal for medical use in 35 U.S. states and permitted for adult-use in 15 states and the District of Columbia
Market watchers appear to consider liberalization of federal laws regarding cannabis to be a foregone conclusion now that the inauguration of President Joe Biden has taken place. That, in turn, is leading to rosy expectations for cannabis consumption — especially in light of the ongoing march of state-by-state legalization amid a growing acceptance of cannabis for adult-use as well as medicinal purposes.
Cannabis marketplace facilitator MAZAKALI is helping investors seize opportunities to build profitable portfolios in this high growth industry while also assisting companies that are looking to raise capital to fuel their growth. The San Francisco-based capital adviser oversees an online investment marketplace that handles direct investments in a diverse field of vetted opportunities while also serving highly funded clients with personalized portfolio management and an Outsourced Cannabis Investment Officer ("OCIO") service for asset managers.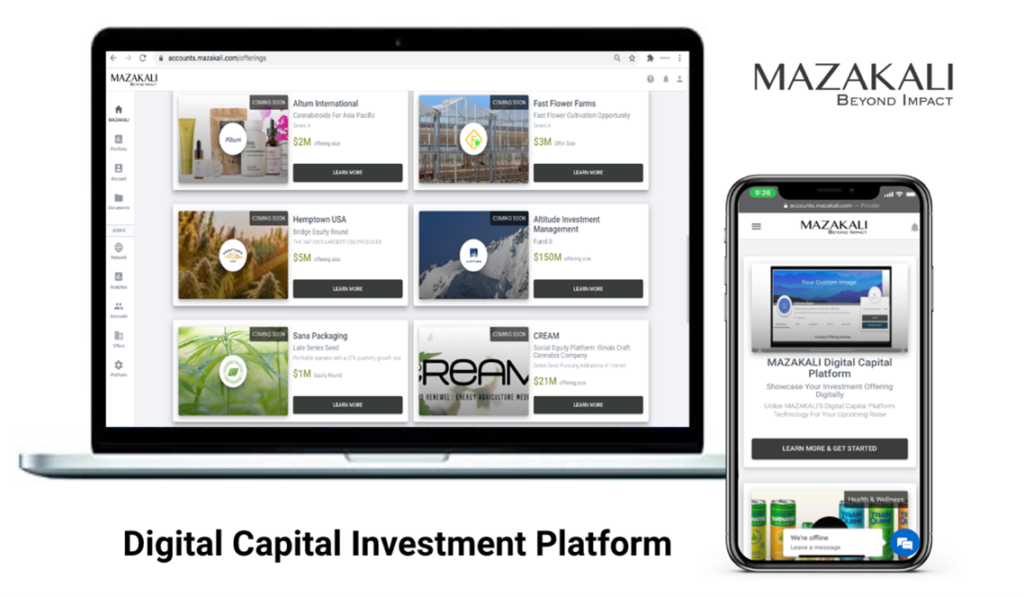 Cannabis plays a key role in MAZAKALI's mission — in 2016 the company began working specifically to help investors place capital and to help companies raise capital. MAZAKALI's GreenPapers(R) inform investors and operators through insights into deep trends in the cannabis complex, predicting in 2017 that significant federal reform would take place this year with a Democratic victory in the White House.
"We had been following public opinion polls on (cannabis) legalization and noticed a fairly precipitous decline in the opposition to legalization. As an example, from 2007 through (20)17 we saw opposition decline from 60 to 40 percent and support increase even more, from 30 to nearly 60 percent," MAZAKALI founder and CEO Sumit Mehta said during an interview with Jeremy Neilson, CEO of Assure (https://nnw.fm/iagUP).
"We then looked at other states-led rights issues that eventually became legal at a federal level and we saw fairly similar trajectories," Mehta added. "We saw a meaningful uptick in the states that were passing cannabis legalization measures between 2015 and 2017, and knew that the majority of Americans would soon have legal access to this plant with countless stories to share about its medical impact.  We expected that this would further bolster the public support that was building, fueled further as media was also becoming far less reticent to cover this increasingly destigmatized topic."
Cannabis is currently legal for medical use in 35 U.S. states and permitted for adult-use in 15 states (https://nnw.fm/uybr9). Its use has been adopted by a wide age range of consumers, particularly as older populations turn to cannabidiol ("CBD") for over-the-counter pain relief and sleep aids (https://nnw.fm/OvD17).
In further support for investor confidence, observers have noted that President Biden appears to be stocking his cabinet with several key cannabis-friendly advisers. He has named a strong supporter of cannabis legalization as his nominee to lead the Democratic National Committee ("DNC") (https://nnw.fm/oH7Al).
"It is likely that Cannabis will prove to be the best performing asset class over the next decade…Hemp will prove to be a major contribution to farmer livelihood as well as industrial and economic output, with the Cannabis complex likely a trillion-dollar market in the making," MAZAKALI states as part of its advisory profile (https://nnw.fm/ceL1v).
For more information, visit the company's website at www.MAZAKALI.com.
NOTE TO INVESTORS: The latest news and updates relating to MAZAKALI are available in the company's newsroom at https://nnw.fm/MAZAKALI
About NetworkNewsWire
NetworkNewsWire ("NNW") is a financial news and content distribution company, one of 40+ brands within the InvestorBrandNetwork ("IBN"), that provides: (1) access to a network of wire solutions via InvestorWire to reach all target markets, industries and demographics in the most effective manner possible; (2) article and editorial syndication to 5,000+ news outlets; (3) enhanced press release solutions to ensure maximum impact; (4) social media distribution via IBN millions of social media followers; and (5) a full array of corporate communications solutions. As a multifaceted organization with an extensive team of contributing journalists and writers, NNW is uniquely positioned to best serve private and public companies that desire to reach a wide audience comprising investors, consumers, journalists and the general public. By cutting through the overload of information in today's market, NNW brings its clients unparalleled visibility, recognition and brand awareness. NNW is where news, content and information converge.
To receive SMS text alerts from NetworkNewsWire, text "STOCKS" to 77948 (U.S. Mobile Phones Only)
For more information, please visit https://www.networknewswire.com
Please see full terms of use and disclaimers on the NetworkNewsWire website applicable to all content provided by NNW, wherever published or re-published: http://NNW.fm/Disclaimer
NetworkNewsWire (NNW)
New York, New York
www.networknewswire.com
212.418.1217 Office
Editor@NetworkNewsWire.com
NetworkNewsWire is part of the InvestorBrandNetwork