What a wild ride on Wall Street. Individual investors, loosely connected on a social media platform, challenged institutional investors and brought them to their knees using a classic Wall Street tactic to put the squeeze on Wall Street itself.
Featured in a Wall Street Journal article, Keith Gill, an individual trader known as DeepF—ingValue on the Reddit forum WallStreetBets, sparked a Wall Street counterculture and helped turn the investing world upside down. By now, almost everyone has heard of GameStop Corp. (NYSE: GME) and its meteoric rise from obscurity to over 1,700% at its peak. Individual investors on WallStreetbets successfully targeted and chatted up several stocks with extremely high short interest, which triggered short squeezes in many of the targets, forcing short interests to cover. The strategy worked like magic, with buying volume so heavy that hedge funds lost billions and broker dealers like Robinhood temporarily restricting buying in certain stocks to preserve financial solvency. This never-before-seen David vs. Goliath moment in the markets has been punctuated by shrieks of jubilation from thousands of small investors for having "stuck it" to the establishment while cashing in along the way. It wasn't just GameStop that was targeted. AMC Entertainment Holdings Inc. (NYSE: AMC), the movie theater chain, has surged nearly 840% this year, and BlackBerry Ltd. (NYSE: BB) is up nearly 280%. Wielding the power of technology and decentralization, individual investors have disrupted the long-established Wall Street power dynamic, which begs the question: what's next?
Maybe the answer in on Mr. Gill's notepad…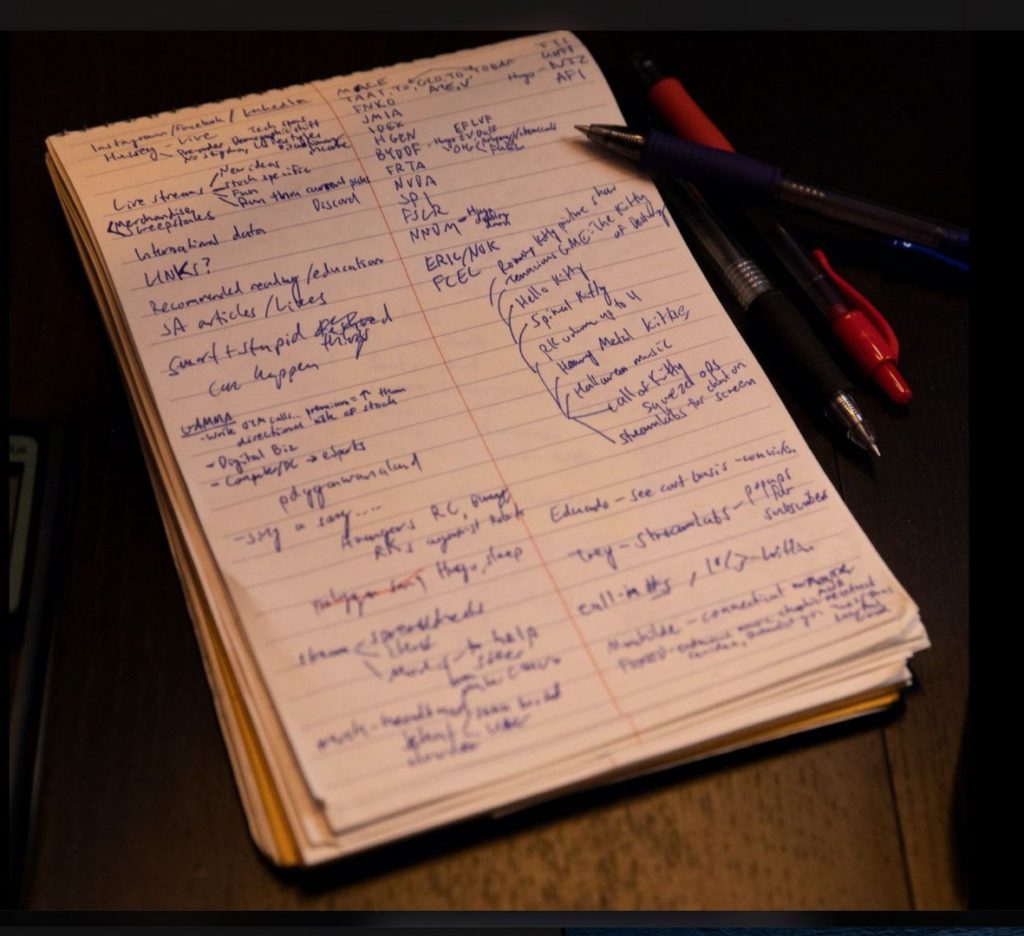 The notepad of DeepF—ingValue (aka Mr. Gill) is pictured in the WSJ article and lists several stock tickers. At the top of the list of stock tickers is 'TAAT', the symbol for TAAT LIFESTYLE & WELLNESS LTD. (CSE: TAAT) (OTCQB: TOBAF) (FRANKFURT: 2TP2). This is really intriguing and might even be an indication of where the masses are headed next.
TAAT LIFESTYLE & WELLNESS is an interesting yet little known company guided by savvy and experienced management launching a truly unique product. The company has developed TAAT, a tobacco-free and nicotine-free alternative to traditional cigarettes, and intends to make its mark in the $814 billion global tobacco industry. TAAT's base material is Beyond Tobacco, a proprietary blend which undergoes a patent-pending refinement technique causing its scent and taste to resemble tobacco while emulating the sensory experiences of smoking. Under executive leadership with pedigrees from Big Tobacco, TAAT just launched in the United States in December and is already getting rave reviews. In just its second month of availability at retail in Ohio, TAAT is carried in over 100 tobacco retail stores across the state, and about 60% of retailers who have  carried TAAT for three or more weeks have reordered at least once, with several reorders asking for a greater quantity than the first. That's indicative of a product that could easily catch fire with consumers.
With several hundred million legal-aged smokers worldwide, there's a tremendous opportunity for a nicotine-free and tobacco-free product such as TAAT to gain market share. TAAT's proprietary Beyond Tobacco, is a non-tobacco product and has a significant tobacco tax-free price advantage in many states. TAAT's objective is to build Beyond Tobacco into an iconic and recognizable American consumer brand by persuading current tobacco smokers of legal age to abandon tobacco cigarettes in favor of TAAT.
The company realizes (and maybe Mr. Gill does, too) that if just one pack of Beyond Tobacco a day was sold at 20% of all U.S. tobacco points of sale, it would equate to approximately 2.7 million cartons a year, and TAAT would capture 0.25% of an $800+ billion market. Maybe that's why TAAT was first on the list of DeepF—ingValue.
For more information, visit the company's website at www.taatglobal.com.
About NetworkNewsWire
NetworkNewsWire (NNW) is a financial news and content distribution company that provides (1) access to a network of wire services via NetworkWire to reach all target markets, industries and demographics in the most effective manner possible, (2) article and editorial syndication to 5,000+ news outlets (3), enhanced press release services to ensure maximum impact, (4) social media distribution via the Investor Brand Network (IBN) to nearly 2 million followers, (5) a full array of corporate communications solutions, and (6) a total news coverage solution with NNW Prime. As a multifaceted organization with an extensive team of contributing journalists and writers, NNW is uniquely positioned to best serve private and public companies that desire to reach a wide audience of investors, consumers, journalists and the general public. By cutting through the overload of information in today's market, NNW brings its clients unparalleled visibility, recognition and brand awareness. NNW is where news, content and information converge.
To receive SMS text alerts from NetworkNewsWire, text "STOCKS" to 888-902-4192 (U.S. Mobile Phones Only)
For more information, please visit https://www.networknewswire.com
Please see full terms of use and disclaimers on the NetworkNewsWire website applicable to all content provided by NNW, wherever published or re-published: http://NNW.fm/Disclaimer
NetworkNewsWire (NNW)
New York, New York
www.networknewswire.com
212.418.1217 Office
Editor@NetworkNewsWire.com
NetworkNewsWire is part of the InvestorBrandNetwork.