Following an international climate agreement in 2015, governments around the world have bound themselves legally to develop, execute, and report on strategies to reduce greenhouse gas pollutants
The Paris climate agreement envisions pollution reduction by 2050 to such a degree that it will prevent global temperatures from rising more than 1.5 to 2 degrees Celsius above temperature levels about 300 years ago before the Industrial Revolution
Investors are increasingly using their roles as corporate shareholders to encourage responsibility and active participation in climate change reduction efforts, and that includes financial institutions that provide loans to the fossil fuel industry
Green energy solutions company Correlate Infrastructure Partners Inc. is helping companies analyze their energy usage, develop ways to improve their buildings' impact on the environment, and transparently inform shareholders of their progress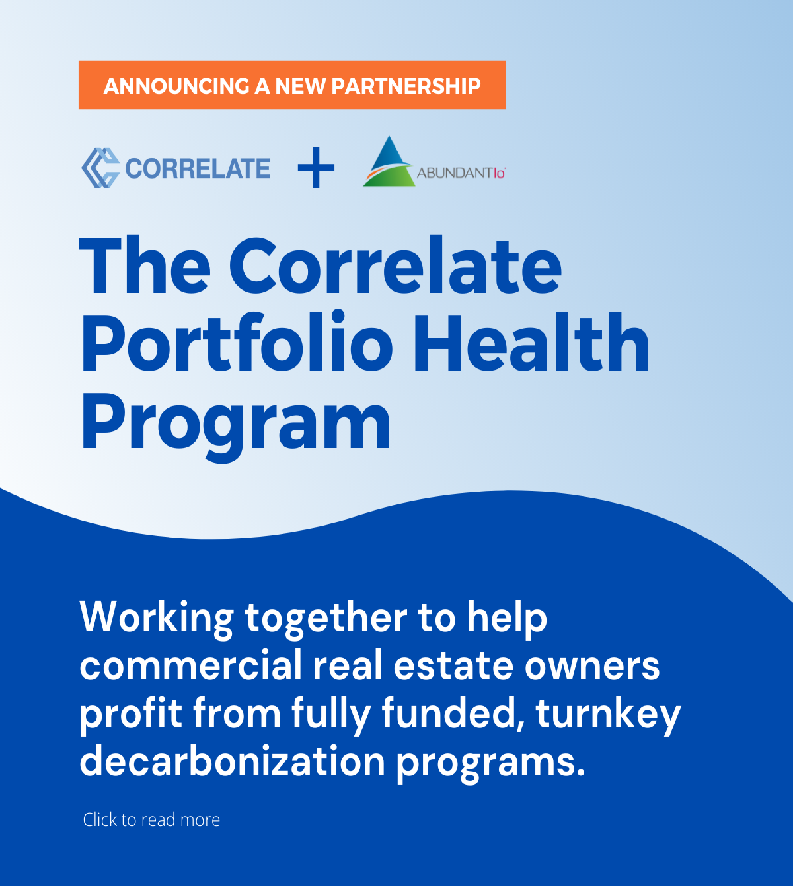 When nearly 200 government entities from the world's international community established a legally binding agreement to combat climate change nearly a decade ago, they set in motion an effort to work cooperatively on making the planet a place where future generations can avoid growing threats from unprecedented shifts in weather patterns (https://nnw.fm/6sNpi). 
The goal to prevent increasingly severe weather from significantly altering the course of human history was expressed in terms of reducing the use of man-made pollutants by 2050 enough to keep global temperature increases from peaking beyond more than 1.5 degrees Celsius above where they were in the pre-industrial era nearly 300 years ago. 
Because pollution-reducing goals necessarily involve buy-in from corporations whose production processes generate pollution, numerous industries have responded by stating efforts to measure and reduce their greenhouse gas emissions, which recently have fallen under the rubric of environmental, social and governance ("ESG") initiatives (https://nnw.fm/r4Z1F). 
Correlate Infrastructure Partners (OTCQB: CIPI), a purpose-built energy use optimization company based in the United States, has made its mission one of developing green utilities solutions for the commercial real estate industry so that buildings and other corporate facilities will help contribute to a climate solution. 
The company works to provide advisory assistance on acquisitions and project development to commercial solar industry clients and to back that up with development and financing resources for commercial clients looking for clean energy facility upgrades. CIPI's subsidiaries, Correlate and Solar Site Design, use data analysis and a commitment to transparency to help their clients achieve clean energy solutions. 
The international climate accords will begin requiring countries to report transparently on the actions they've taken and progress made toward arresting climate change. Climate activists are increasingly calling on the businesses they invest in to account transparently for their greenhouse gas profiles and company efforts at climate change mitigation.
"Financial institutions have a key role to play in decarbonizing the global economy and addressing the systemic risks posed by climate change," comptroller Tom DiNapoli of the New York State Pension Fund told the boards of major banks earlier this year ahead of shareholder votes on resolutions intended to blunt the banks' underwriting of loans for new fossil fuel development.
A report on DiNapoli's statement noted that the fund oversees $280 billion in investments and has been proactive in supporting climate action (https://nnw.fm/UxVuM). According to the report, Wells Fargo, Citi, Goldman Sachs, and Bank of America, all urged their shareholders not to support the climate proposals, pointing out that, although they continue to support new fossil fuel initiatives presently, they maintain a goal of net-zero greenhouse gas emissions by the year 2050. The climate change proposals failed, as did a similar proposal later. 
"The path to full decarbonization will take ambition and intentional execution," CIPI CEO Todd Michaels stated last month, signaling the need for businesses to not only establish plans but execute on them (https://nnw.fm/Nulz3). 
"By teaming up with industry innovators and experts, we can guide commercial real estate owners in creating new revenue and rent opportunities from their existing energy assets," he added. 
For more information, visit the company's website at www.CorrelateInfra.com, including the following: 
NOTE TO INVESTORS: The latest news and updates relating to CIPI are available in the company's newsroom at https://nnw.fm/CIPI
About NetworkNewsWire
NetworkNewsWire ("NNW") is a financial news and content distribution company, one of 50+ brands within the InvestorBrandNetwork ("IBN"), that provides: (1) access to a network of wire solutions via InvestorWire to reach all target markets, industries and demographics in the most effective manner possible; (2) article and editorial syndication to 5,000+ news outlets; (3) enhanced press release solutions to ensure maximum impact; (4) social media distribution via IBN millions of social media followers; and (5) a full array of corporate communications solutions. As a multifaceted organization with an extensive team of contributing journalists and writers, NNW is uniquely positioned to best serve private and public companies that desire to reach a wide audience comprising investors, consumers, journalists and the general public. By cutting through the overload of information in today's market, NNW brings its clients unparalleled visibility, recognition and brand awareness. NNW is where news, content and information converge.
To receive SMS text alerts from NetworkNewsWire, text "STOCKS" to 77948 (U.S. Mobile Phones Only)
For more information, please visit https://www.NetworkNewsWire.com
Please see full terms of use and disclaimers on the NetworkNewsWire website applicable to all content provided by NNW, wherever published or re-published: http://NNW.fm/Disclaimer
NetworkNewsWire (NNW)
New York, New York
www.NetworkNewsWire.com
212.418.1217 Office
Editor@NetworkNewsWire.com
NetworkNewsWire is part of the InvestorBrandNetwork