Canada's biggest and most exciting blockchain event is set to create a perfect marriage between ingenuity and luxury as the "who's who" of the blockchain world gather for the not-to-be-missed Blockchain Futurist Conference, taking place Aug. 13-14 at the ultra-swank Rebel Entertainment Complex and Cabana in Toronto, Ontario. This cutting-edge gathering is not only the place to be if you want to stay "in the know" about all things blockchain, but it will also place attendees in the lap of luxury as they enjoy the posh surroundings of the Rebel Entertainment Complex. Offering a special deal to give participants the best seats in the venue, Untraceable – the organizing body behind Blockchain Futurist – is providing attendees with an opportunity to reserve their own private cabanas during the event!
With the purchase of four VIP expo passes, Blockchain Futurist conferencegoers will secure two days of premium comfort beneath the shade of their own luxury cabana, located in the VIP section of the Cabana Pool Bar at Rebel. VIP tickets include a full conference pass for both days of Blockchain Futurist, access to the VIP Backstage Experience, and a dedicated VIP entrance. With networking opportunities aplenty and three official parties taking place during the conference, these cabanas will be the center of excitement as attendees and their guests enjoy the true VIP treatment! Reserve your VIP tickets and cabana here: www.Futurist19.com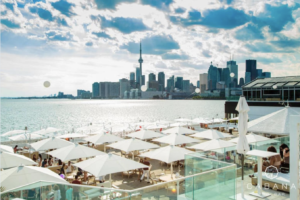 The annual Blockchain Futurist Conference is a premier hub for happenings within the blockchain world. At the 2018 conference, 21 groundbreaking announcements were made over the course of the event, putting attendees at the razor's edge of industry information and giving them a first-to-know advantage regarding exciting advancements. As some of the brightest minds in the blockchain space come together to discuss, debate, display and deploy the latest innovations and emerging tech, the future of technology will be close enough to touch at Blockchain Futurist!
ENTER TO WIN TICKETS! CryptoCurrencyWire, the official newswire of Blockchain Futurist, is giving away two VIP tickets to Blockchain Futurist valued at $3,000! Ten runners-up will win general admission tickets valued at $400. To enter, visit ccw.fm/Futurist-Giveaway-2019. The contest closes at 11:59 p.m. EST on July 21, so enter soon!
For more information about Blockchain Futurist, including ticket registration, visit www.Futurist19.com. Discounts are available when purchased with crypto.
About Untraceable
Untraceable is an event marketing and advisory company within the blockchain industry. Founded in 2013 to help build and grow the cryptocurrency community, Untraceable specializes in designing cutting-edge events by seamlessly integrating crypto ticketing, event apps, token creation and innovative tech solutions. Untraceable has organized hundreds of trailblazing events, from the first Bitcoin Expo in Canada, first security tokens conference Polycon, first blockchain and loyalty conference, and dozens of large-scale hackathons such as ETHWaterloo, Blockgeeks, and Ethereum's 1st Hackathon. Untraceable events create immersive experiences designed to create a future world within a conference.
About NetworkNewsWire
NetworkNewsWire (NNW) is an information service that provides (1) access to our news aggregation and syndication servers, (2) NetworkNewsBreaks that summarize corporate news and information, (3) enhanced press release services, (4) social media distribution and optimization services, and (5) a full array of corporate communication solutions. As a multifaceted financial news and content distribution company with an extensive team of contributing journalists and writers, NNW is uniquely positioned to best serve private and public companies that desire to reach a wide audience of investors, consumers, journalists and the general public. NNW has an ever-growing distribution network of more than 5,000 key syndication outlets across the country. By cutting through the overload of information in today's market, NNW brings its clients unparalleled visibility, recognition and brand awareness. NNW is where news, content and information converge.
To receive SMS text alerts from NetworkNewsWire, text "STOCKS" to 77948 (U.S. Mobile Phones Only)
For more information please visit https://www.NetworkNewsWire.com
Please see full terms of use and disclaimers on the NetworkNewsWire website applicable to all content provided by NNW, wherever published or re-published: http://NNW.fm/Disclaimer
NetworkNewsWire (NNW)
New York, New York
www.NetworkNewsWire.com
212.418.1217 Office
Editor@NetworkNewsWire.com