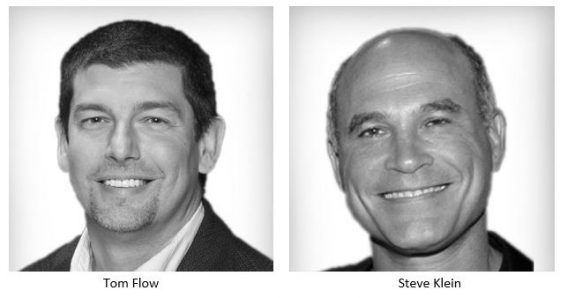 Exclusive Interview with Flowr CEO Tom Flow and Chairman of the Board and Chief Strategist Steve Klein
The Flowr Corporation is in the middle of building its licensed flagship facility in Kelowna, British Columbia and gearing up to go public. CEO Tom Flow and Chairman of the Board and Chief Strategist Steven Klein spoke with New Cannabis Ventures about the company's plans to compete in the active Canadian market.
Flow has a decade of experience in the cannabis industry. Under the MMAR program in Canada, he helped design and build 17 facilities in Ontario. When the MMPR (now ACMPR) program launched, he founded MedReleaf (since acquired by Aurora Cannabis), where he led the design, build, and operations of its original Ontario facility, which is regarded as one of the most efficient large-scale facilities in the country. Klein, CEO of New York investment firm Apple Core Holdings, became interested in the industry in 2010 when states began legalizing medical cannabis. He explored a number of opportunities before meeting Flow and investing in Flowr.
The company is building its 84,000-square-foot flagship facility in Kelowna, British Columbia. Right now, 20 percent of the licensed facility is up and running, which represents an annual production capacity of 2,500 kilos. Once the entire facility, which will be complete by year-end, is operating, production capacity will increase to 12,000 to 15,000 kilos per year. The company is also in process of designing a number of other facilities, which will take Flowr's annual production capacity to approximately 60,000 kilos.
Next to the Kelowna production facility, the company is building a 50,000-square-foot research and development facility. R&D is a pillar of the company's strategy, bolstered by its partnership with Scotts Miracle-Gro subsidiary Hawthorne Gardening. The R&D facility will support that partnership and delve into genetics, breeding, and grow analytics.
Flowr will be prepared to enter the British Columbia market. In addition to its in-construction Kelowna campus, the company was recently named one of 31 initial suppliers in the province. The company is also in talks with a number of other provinces about potential supply agreements, according to Klein. In addition to the focus on the Canadian market, the company is looking at international expansion starting with an LOI with a German importer – a deal expected to ramp in the first or second quarter of 2019.

Flow describes the company as "built by growers for growers." It is this philosophy and the commitment to ultra-premium flower that the company's leadership expects will make Flowr a competitive player in a crowded marketplace. The company has two brands: Flowr for the recreational space and Flowr Rx for the medical space. All of the company's flower is grown with a high yield per square foot and quality that ensures it will pass Health Canada inspection without radiation, according to Klein. Both Klein and Flow see a shortage of quality product in the industry currently that they anticipate will be even more severe after the launch of the legal retail market in the fall, and they expect Flowr's products will be met with high demand.
Core Flow Holdings, an affiliate of Klein's company, has invested a significant amount of capital in Flowr through several fundraising rounds held over the past couple of years. To date, the company has raised approximately $38 million from Core Flow Holdings and people in both Klein's and Flow's network. By late summer or early fall, Flowr will be listed as a public company.
The company has not yet begun to sell, but it expects to receive an amendment to its license permitting it to do so shortly, and it has already developed relationships with clinics.  Klein expects to have a real sales number in hand by the end of the year, a number that he expects to grow significantly once the company reaches full production capacity in 2019.
Flowr is growing rapidly, and Flow sees the demand of producing at that increasing scale as an opportunity, challenge, and promise to the company's investors and consumers.
To learn more, visit the Flowr website. Listen to the entire interview:
Authored by Carrie Pallardy of NewCannabisVentures.com