Namibia's $14 billion economy, while facing economic growth challenges and simmering land redistribution pressures, is endowed with an abundance of natural resources that could help turbo-charge its economic prospects, according to Menas Associates, a London-based business intelligence organization.
At a breakfast briefing for investors in London by Menas and co-hosted by international law firm Herbert Smith Freehills in October, two leading experts on Namibia's economy and hydrocarbons outlook – Roger Murray and Daniel McKeown – painted an alluring picture of the country's growth prospects.
Roger Murray, a business and political risk analyst who has spent his professional career monitoring political and economic developments in the country, was adamant that the BB+ sovereign credit rating posted by credit rating agency Fitch failed to do justice to Namibia's medium to long-term economic prospects.
According to Murray, Namibia's macro-economic outlook – despite short-term setbacks – has been robust since the 2008 financial crisis, with average gross domestic product growth of 5.7% between 2011 and 2015. While the economy contracted by 1% in 2017, it is expected to recover to around 2% in 2018.
The modest deterioration in the country's economic fortunes has forced the government to embark on a policy of fiscal consolidation to reduce the budget deficit and restrain the growth of public debt.
But foreign debt remains low, inflation has been kept below 5%, and foreign exchange reserves currently stand at some N$33 billion (US$2.4 billion) – more than enough for five months' import cover, Murray said.
Abundant mineral resource base
Of far greater significance for the country's economic growth outlook is its abundant mineral resource base, and the wide range of mineral resources that the government is seeking to develop, Murray added.
Diamonds remain the mainstay of the mineral sector – although forecast growth of 10.9% for 2018 is expected to fall by around 50% in 2019 due to the depletion of onshore diamonds.
This will, however, be more than compensated by the country's Debmarine Namibia partnership between De Beers and the government, which is forecast to increase offshore diamond production significantly over the medium-term.
It is here, in the resource sector, that Namibia's potential for accelerated growth lies. It is set to become the world's third largest uranium producer once the Chinese-owned Husab mine ramps-up production in 2019 – mining the fuel that new Chinese nuclear power plants will need for decades to come – Murray said.
New entrants develop battery metal deposits
In addition, new entrants are developing Namibia's extensive endowment of battery metal deposits – cobalt, graphite and lithium – that will drive the developed world's digital economy in the decades ahead. At the same time, foreign investment continues to flow into traditional sectors such as gold and cement.
Land ownership has become a major issue ahead of elections due in 2019, but it is nowhere near as polarising an issue as it is in neighbouring South Africa. Namibia boasts 34 million hectares of arable land – 41% of the total – some 70% of which is owned by whites who make up less than 10% of the population of 2.4 million.
Efforts to redistribute land on a more equitable basis since independence from South Africa in 1990 have hitherto failed, and pressures to dilute white ownership are mounting.
Following a land conference in October, the government has agreed to abandon the 'willing buyer-willing seller' policy, which has seen only a fraction of land change hands, in favour of a policy of expropriation where necessary but with 'just' compensation.
The 1990 constitution, which upholds property rights, remains paramount, while President Hage Geingob has effectively ruled out arbitrary land grabs or the nationalisation of land.
A long-neglected potential new oil province
Daniel McKeown, the cofounder and managing director of offshore oil and gas explorer Azinam – which is active in offshore Namibia – outlined the 50 year history of oil and gas exploration in the country, during which less than 20 wells have been sunk in the region.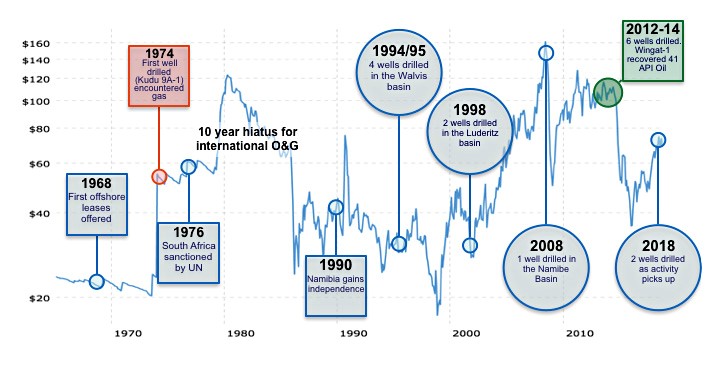 Despite being one of Africa's least explored prospective oil and gas regions, McKeown insisted that the drilling that has taken place to date has demonstrated beyond doubt that the region has the potential to become a new petroleum province, with all the indicators of hydrocarbons – from source-rock to structural traps – being confirmed.
After a near decade-long lull in exploration, drilling picked up dramatically in 2018, and is expected to increase further in 2019 – despite the two dry wells sunk by offshore explorers so far this year. Tullow oil is scheduled to sink another well in December, with a wide range of other explorers are expected to follow suit.
Africa New Energies targets onshore oil & gas sector
While much of the mainstream oil and gas industry remains concentrated on the offshore sector, Africa-focused oil and gas explorer Africa New Energies (ANE) has been channelling its energies on the much-neglected onshore sector where it is exploring a vast concession in the east of the country roughly the size of Montana.
ANE is still awaiting the results of a test bore conducted in September to help locate the presence of sub-surface water, along with evidence of any hydrocarbons in the region.
The Aziza Project is currently in the process of raising $60 million – $45 million of which has been earmarked for a ten-well drilling programme in the country – which could begin towards the end of 2019.
Aziza Project CEO, Robert Pyke: "We are very bullish on the Southern Africa onshore oil and gas prospects. We eagerly await the test bore results and are hoping this will further confirm what ANE's 17 layers of exploration data is suggesting is underground on the concession. A positive result will unlock Namibian and Southern Africa onshore oil and gas."
For more information, visit the company's website at www.Aziza.io
More from NetworkNewsWire
About NetworkNewsWire
NetworkNewsWire (NNW) is a financial news and content distribution company that provides (1) access to a network of wire services via NetworkWire to reach all target markets, industries and demographics in the most effective manner possible, (2) article and editorial syndication to 5,000+ news outlets (3), enhanced press release services to ensure maximum impact, (4) social media distribution via the Investor Brand Network (IBN) to nearly 2 million followers, (5) a full array of corporate communications solutions, and (6) a total news coverage solution with NNW Prime. As a multifaceted organization with an extensive team of contributing journalists and writers, NNW is uniquely positioned to best serve private and public companies that desire to reach a wide audience of investors, consumers, journalists and the general public. By cutting through the overload of information in today's market, NNW brings its clients unparalleled visibility, recognition and brand awareness. NNW is where news, content and information converge.
To receive SMS text alerts from NetworkNewsWire, text "STOCKS" to 77948 (U.S. Mobile Phones Only)
For more information, please visit https://www.networknewswire.com
Please see full terms of use and disclaimers on the NetworkNewsWire website applicable to all content provided by NNW, wherever published or re-published: http://NNW.fm/Disclaimer
NetworkNewsWire (NNW)
New York, New York
www.networknewswire.com
212.418.1217 Office
Editor@NetworkNewsWire.com