Investment Considerations
Data443 in November 2022 released Data Hound™, for rapid data scanning, to work with Webex by Cisco.
The company retained 99% of its customers in Q3 2022 despite the difficult economic conditions.
Data443 in September 2022 announced expansion of its new headquarters in Research Triangle Park, North Carolina.
The company in January 2022 completed its acquisition of ransomware recovery and data extortion mitigation platform Centurion SmartShield.
Data443 Risk Mitigation Inc. (OTC: ATDSD) is a data security and privacy software company for ALL THINGS DATA SECURITY™. The company is committed to organizing the world's information by identifying and protecting all sensitive data regardless of location, platform or format.
Data443 provides software and services to enable secure data across devices and databases – at rest and in transit – locally, on a network, or in the cloud. With over 10,000 customers in more than 100 countries, Data443 provides a modern approach to data governance and security. The company's framework helps customers prioritize risk, identify security gaps, and implement effective data protection and privacy management strategies.
Data443 derives revenue primarily from contracts for subscriptions to access its SaaS platforms, and ancillary services provided in connection with its subscription services. In today's ever-changing environment with unique and complex requirements for data privacy, governance and hybrid workforces, every organization needs to know where all their data is, who has access to it and how sensitive it is. Data443 provides the tools needed to give companies control over their data processing activities, with capabilities for identifying, reporting and migrating or deleting sensitive data.
The company is headquartered in Research Triangle Park, North Carolina.
Products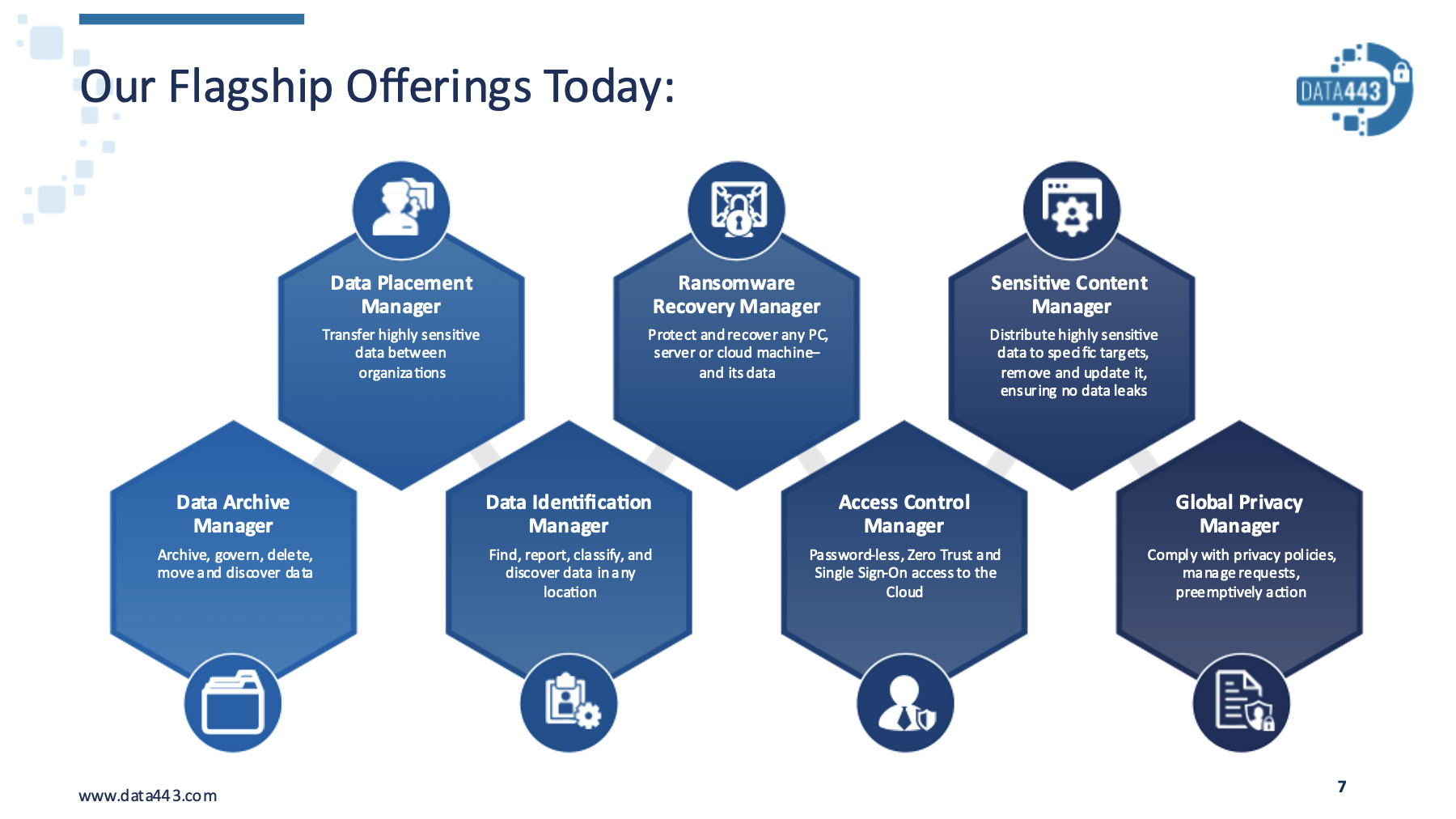 Focused on data security with a privacy-forward methodology, the Data443 product suite delivers solutions designed to securely manage data and data privacy needs on-premises, in the cloud and in hybrid environments. Offerings include:
Data Identification Manager reduces risk by shining a light on dark data across cloud, on-premises and hybrid environments. From a centralized dashboard, Data Identification Manager provides the ability to automatically inventory all data repositories, classify and tag all data, and enable global search and discovery – all through an agentless deployment.
Data Placement Manager quickly and securely transfers sensitive data over any public or private network. Available as an HP Nonstop server-based application and for Windows, Linux or any public cloud provider, Data Placement Manager enables the scheduling, routing, formatting and transfer of business-critical data.
Data Archive Manager is an "all information, anywhere" archiving solution designed to handle and manage all types of privacy requests across cloud, on-premises and hybrid environments. With over 15 years operational history and hundreds of clients managing millions of mailboxes, the platform is purpose-built for information archiving, retention and privacy request management.
Data Hound™ is a data discovery, classification and capture toolset that enables organizations to perform quick scans, detailed reporting and subsequent data actions based on policy.
Ransomware Recovery Manager is the only industry solution that actively recovers the device, operating system and data with a simple reboot. Using patented, proven technology, the product produces 100% effectiveness for the whole device and datasets.
Access Control Manager provides user ID and passwordless access to quickly enable trust across an organization's entire ecosystem. Its unique architecture allows it to leverage multiple distributed authoritative sources to understand and resolve a typical access request – with the ability to enable or deny the action on the fly.
Global Privacy Manager provides organizations one comprehensive view, for all privacy requirements, across all enterprise data, all at once. This unmatched visibility into an organization's data assets ensures that all private and sensitive data can be identified and protected and that enterprises can obey all relevant privacy laws in any jurisdiction.
Sensitive Content Manager is a security-centric collaboration service designed to give organizations the tools needed for successful content sharing, collaboration and safe distribution with full enterprise management in mind. With a continuous sync feature, encrypted data is automatically downloaded and updated in real time – regardless of location – ensuring that users have the most accurate data available.
Market Outlook
A report from Allied Market Research estimates that the global data security market was worth about $19 billion in 2021 and is projected to reach a value of $54.23 billion by 2027. That represents a CAGR of more than 18% for the forecast period, making data security one of the hottest areas within IT.
Separately, Fortune Business Insights estimates the global data privacy software market is valued at $2.36 billion in 2022 and projects it will grow to $25.85 billion by 2029. That represents a CAGR of 40.8% over the forecast period.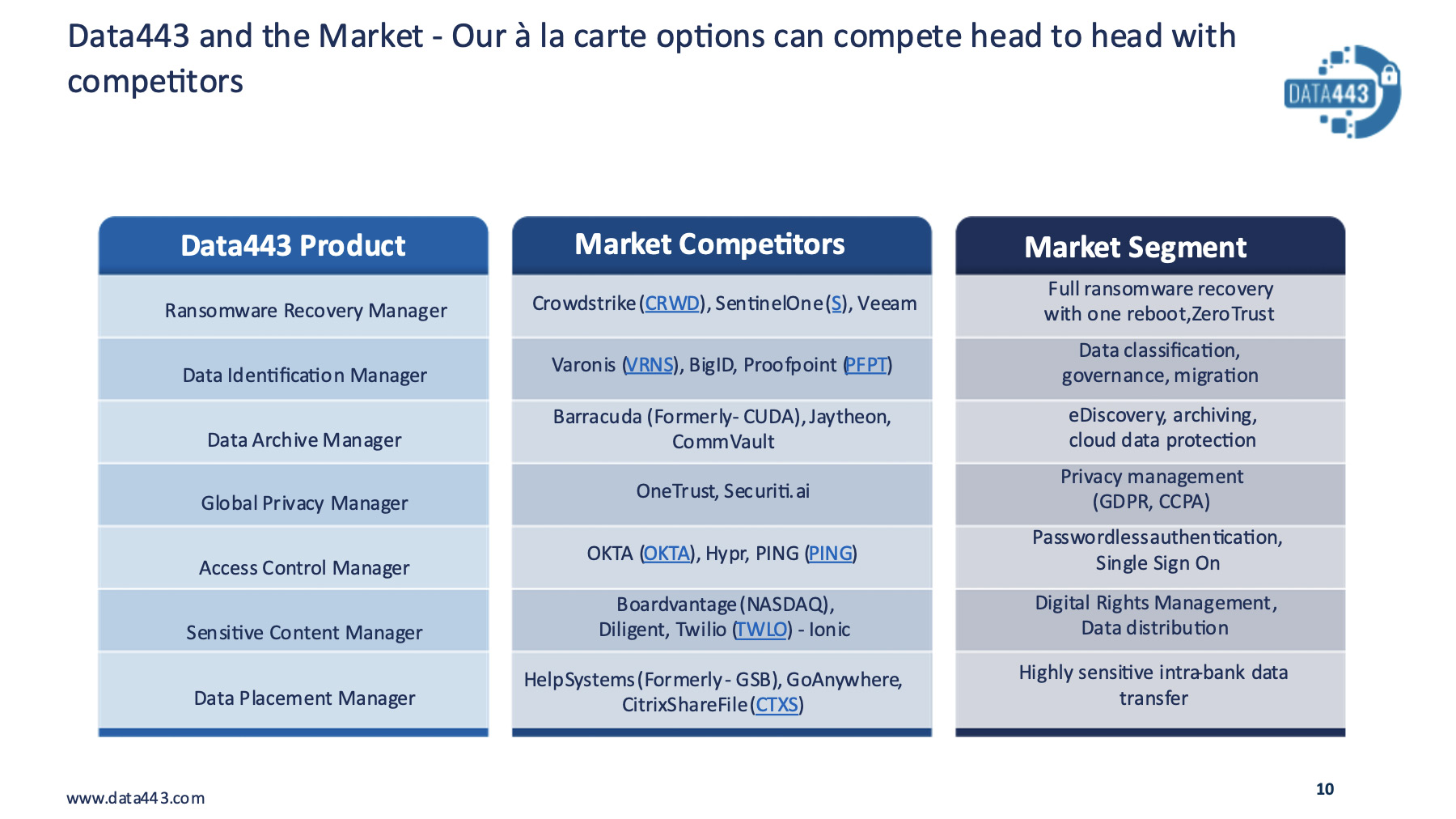 Management Team
Jason Remillard is President, CEO and Founder of Data443. He is responsible for overseeing global expansion, management, execution and corporate development. With over 25 years in global enterprise and B2C software sales and marketing, he brings deep leadership and technical experience, having spent previous time at Fortune 500 companies such as Deutsche Bank, TD Bank, IBM & Merrill Lynch.
Greg McCraw is CFO at Data443. He has over 25 years of experience helping businesses strengthen their accounting and finance operations. He previously served as Vice President of Finance for a dental services organization active in acquisitions, and, prior to that, he was managing director of a boutique accounting and finance consulting firm advising Fortune 500 clients in pharmaceutical, financial services, and private equity sectors on how to execute on regulatory and compliance solutions.
Bennett Pursell is Data443's Chief Technology Officer. He has over 20 years of experience in IT architecture, security governance and systems integration. Prior to his role at Data443, he served as Head of Technology Architecture at Moody's Investor Services and was Vice President and Technical Architect of Cloud Computing at Deutsche Bank, along with a host of technical and project management roles dating back to 2006, after starting his career as a web developer with a few startups and running research labs.
Kirill Kashigin is Chief Software Architect at Data443. He leads the development and quality teams, and serves as technical adviser and subject matter expert, bringing vast technical knowledge on privacy management and data security. Formerly the CTO of FileFacets, he has nearly 20 years in development of high-performance systems and deployment.
Additional Resources