Investment Considerations
GEMXX has a qualified Regulation A offering in place to raise up to $6 million at $0.40 per share.
GEMXX's net income for the three months ended December 31, 2022, increased to $182,992, as compared to $126,360 in the previous quarter.
The company's most recent financial results filing continues to report positive net revenues for the year and no long-term debt.
In March 2023, GEMXX announced it had signed an Ammolite Master Supply Agreement with Canadian Ammolite Gems by Kenneth Bradley.
GEMXX Corp. (OTC: GEMZ) is a mine-to-market enterprise specializing in gold, gemstone, and jewelry production. With ownership of mining resources, production facilities, and operational assets, the company maintains control over every aspect of its production process, from gold mining and gemstone extraction to jewelry manufacturing and global distribution.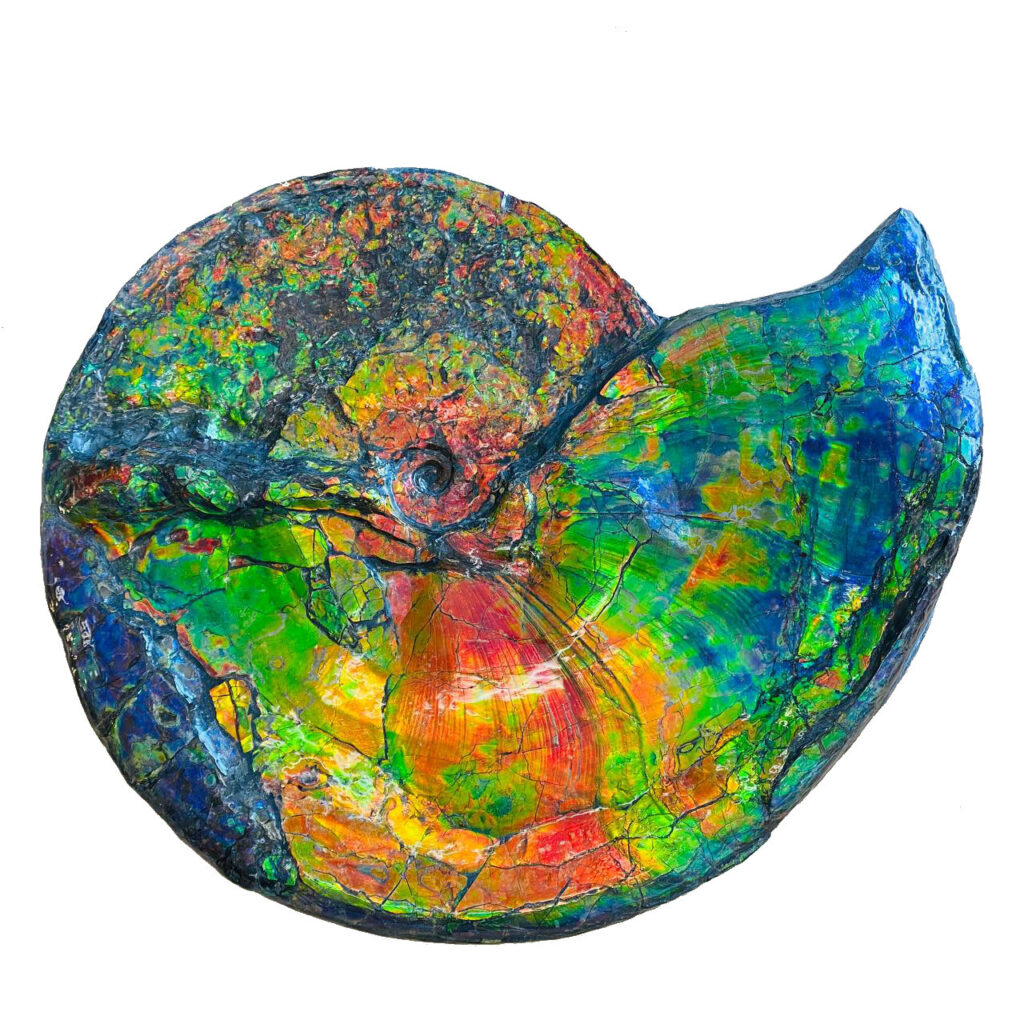 As a prominent player in the industry, GEMXX stands out as a leading producer of high-quality finished Ammolite jewelry. Notably, it holds the distinction of being the sole public company engaged in Ammolite mining worldwide. In addition to its Ammolite operations, the company is actively involved in gold mining and prides itself on its ability to design and manufacture exquisite jewelry pieces and exceptionally rare, natural fossil decor items for clientele around the globe.
One of GEMXX's key advantages lies in mining its own gold reserves to be utilized in its jewelry production. This strategic approach provides the company with a cost-saving edge over other producers in the market.
Ammolite is similar to black opal and is a biogenic gem like amber and pearl. It is derived from the fossilized shells of ammonites, a group of extinct marine nautiluses.
GEMXX's world class gemstone cutters and jewelry designers are continuously leading the Ammolite industry. Its team believes in the company's philosophy, vision and goals, and works every day to continue to drive the Ammolite industry to the forefront of the gem world.
The company has offices in Las Vegas and Hong Kong.
Projects and Operations
GEMXX has formulated an ambitious growth plan that, while challenging, is deemed attainable. The company's strategy revolves around bolstering its market share through several key initiatives. Firstly, GEMXX aims to strengthen its position in current markets by nurturing and expanding existing relationships with customers and partners.
Secondly, the company plans to venture into untapped markets strategically. By identifying and targeting new areas, GEMXX seeks to establish a presence in regions that present promising opportunities for growth.
Additionally, GEMXX envisions growth through acquisitions. By considering and integrating key services, distribution networks and retail outlets into its fold, the company aims to consolidate its market position and capitalize on synergies for enhanced success.
To cater to the rising demand for its products, GEMXX has placed a primary focus on increasing gemstone production. The company's southern properties, situated in Alberta, Canada, hold valuable deposits of rough Ammolite gemstone. By tapping into these resources, GEMXX is poised to meet the demand for its exquisite gemstone products and further fuel its expansion plans.
GEMXX possesses significant mineral assets in the form of a Mineral Work Permit covering an 800-acre area and two Ammonite Shell Mineral agreements encompassing 217 acres within the same region. The company's management effectively operated mines in close proximity to these properties. Moreover, core sampling, along with fossil outcroppings on the riverbanks, confirms a substantial Ammolite resource present in these designated areas.
Both the Mineral Work Permit and the Ammonite Shell Mineral agreements grant GEMXX unrestricted access to all Ammolite resources within their respective demarcations. Notably, the company is not obligated to pay any royalties to third parties, thereby enabling GEMXX to fully capitalize on the potential of these valuable resources.
Furthermore, there are no stringent regulatory conditions that GEMXX must fulfill to gain or retain access to the Ammolite deposits. This freedom of access allows the company to proceed with its mining and production operations unimpeded, providing an advantageous position for future growth and success.
In March 2023, GEMXX made a significant announcement, revealing its acquisition of a 50% ownership stake in Crazy Horse Mining Inc., a Canadian gold mining company with assets situated in the province of British Columbia. As part of this deal, Crazy Horse's assets, which encompass a 100% interest in two gold projects, called Snow Creek and Rosella Creek, spread across a substantial area exceeding 700 acres, now become part of GEMXX's portfolio.
Under the terms of this strategic partnership, GEMXX and Crazy Horse will jointly share the expenses related to mining operations on these projects. Additionally, the two companies will share the gold produced from these ventures, leading to a collaborative and mutually beneficial arrangement.
Initial tests conducted on the property, combined with gold already recovered this season, confirm all expectations for the claims and substantiate the company's estimated extraction target of over 100,000 ounces of easily recoverable gold. To validate and provide a more comprehensive assessment of this estimate, an S-K 1300-compliant Resource Report is scheduled to be conducted during the summer of 2023.
By acquiring this stake in Crazy Horse Mining Inc., GEMXX has positioned itself for further growth in the gold mining sector and is poised to capitalize on cost of goods savings in its jewelry business.
Market Opportunity
Leading independent market research companies such as Data Monitor and GIA estimate the worldwide market for luxury or premium lifestyle products, which include gems and jewelry, at over $90 billion annually and growing. Ammolite sales around the world have seen unprecedented growth over the past 20 years. Worldwide retail sales are now estimated to be over $100 million.

Ammolite jewelry and fossils are featured aboard cruise ships and can be found in specialty shops in almost every cruise port in North America. Asian markets have grown since feng shui master Edward Li called Ammolite the most influential stone of the new millennium, referring to it as the "Seven Color Prosperity Stone." Home shopping channels in Japan, Australia, France, Germany, the UK, Canada and the U.S. have all featured Ammolite jewelry.
Ammolite and ammonites can also be found on many ecommerce sales platforms, including Amazon, eBay and Etsy. Ammolite is sold around the world in tourist and traditional jewelry markets. The company has established customers in home shopping channels, cruise tourism, jewelry retailers, Asian feng shui markets, Asian retail markets and ecommerce platforms.
Management Team
With over 160 years in Ammolite management, operations, and sales, GEMXX possesses an unparalleled wealth of knowledge and expertise. Its team members have extensive backgrounds in every facet of the Ammolite business, allowing the company to excel in product development, maintain rigorous quality control measures, and maximize profitability. The breadth and depth of the GEMXX team's experience enable the company to navigate the industry with precision, ensuring that GEMXX remains at the forefront of the Ammolite market. GEMXX leverages its collective wisdom to drive innovation, deliver exceptional products, and optimize business strategies to achieve long-term success.
Jay Maull is Founder, CEO and Chairman of GEMXX. With a career spanning more than three decades, he has been deeply involved in the Ammolite industry, from mining and production to marketing. He has owned and operated the world's largest Ammolite mine and has delivered exceptional Ammolite products to customers across all continents. He has also established the world's largest Ammolite ecommerce platform.
Richard Clowater is President of GEMXX. He is a skilled sales and marketing professional with a focus on research, data analysis and strategic planning. He has successfully implemented initiatives to expand markets, boost profits and foster customer loyalty. He has an impressive track record of negotiating sales and contracts worth over $250 million with influential stakeholders, including key purchasing personnel, C-suite executives and government entities at all levels.
Tom Dryden is a Vice President of GEMXX and brings a wealth of experience and expertise to the production and marketing of Ammolite, spanning over 30 years. His extensive involvement in the industry has granted him unparalleled knowledge of the Bearpaw Ammonite bearing formations. As a recognized authority in the field, Mr. Dryden's research and papers on Canadian Ammonites have garnered global recognition, being published worldwide. In his role at GEMXX, Mr. Dryden assumes the responsibility of overseeing the company's Canadian-based production facilities.
P. K. Chung is Business Manager Asia at GEMXX. With a track record of over 25 years in Ammolite business management, production and marketing in Asia, she is a recognized authority in the industry. Based in the Hong Kong gem district, she possesses an intricate understanding of the Asian gem and jewelry markets, including market dynamics, consumer preferences and industry trends specific to the region. Her strategic insights and deep connections enable GEMXX to thrive in this influential market.
Additional Resources