Investment Considerations
Ucore currently owns an REE mining project and an advanced separation technology.
Commercial demonstration of the company's RapidSX™ technology is at the commissioning stage.
Ucore plans several modern REE refineries in North America, with the first SMC slated to begin construction in Louisiana in 2023. This planned REE separation and rare earth oxide production plant is scheduled to process 2,000 tons of total rare earth oxides by the end of 2024, increasing to 5,000 tons in 2026.
Through its strategic partnerships with Kingston Process Metallurgy Inc., Mech-Chem Associates Inc. and other supporting contractors and vendors, Ucore is developing a North American REE supply chain.
Ucore Rare Metals Inc. (TSX.V: UCU) (OTCQX: UURAF) is a critical metals ("CM") separation technology company executing an ESG-centered plan toward establishing a comprehensive North American critical metals supply chain. The company has developed a transformative commercial-ready technology, RapidSX™, for separating and purifying critical metals. Ucore intends to deploy this technology in pursuit of a CM supply chain independent of China for Western original equipment manufacturers ("OEMs"), most notably in the automotive and renewable energy industries.
Ucore's vision is to become a leading advanced technology company providing best-in-class metal separation products and services to the mining and mineral extraction industry. Its initial focus is on processing heavy and light rare earth elements ("REEs"), disrupting a supply chain that is dominated by China.
China currently controls about 80% of the world's access to REE mining projects and over 90% of the world's REE processing capabilities, and it produces about 95% of the goods containing REE components.
Ucore is working to scale Western supply needs by establishing REE separation and rare earth oxide ("REO") production capabilities in cooperation with strategic upstream supply and downstream offtake partnerships. The company, along with its industry partners, aims to unlock access to Western REEs for current consumer, energy, manufacturing and military sectors.
By 2025, Ucore expects to commercially separate U.S.-friendly sources of REEs and supply OEMs with REOs required to produce rare earth permanent magnets ("REPMs") – the essential component of electric motors and generators required to support the world's transition to electrification and sustainable energy sources.
The company intends to contribute to this initiative through the near-term development of a heavy and light rare-earth processing facility in Louisiana and subsequent development of Strategic Metals Complexes (SMCs) in Alaska and Canada, as well as through the longer-term development of its 100%-owned Heavy Rare Earth Element (HREE) mineral resource property at Bokan Mountain on Prince of Wales Island, Alaska.
Ucore is headquartered in Halifax, Nova Scotia.
Projects & Technology
RapidSX™ Demonstration Plant
The Kingston, Ontario, RapidSX™ Demonstration Plant commissioning process is underway. Once commissioned, the plant is designed to demonstrate the commercial capabilities of the RapidSX technology platform.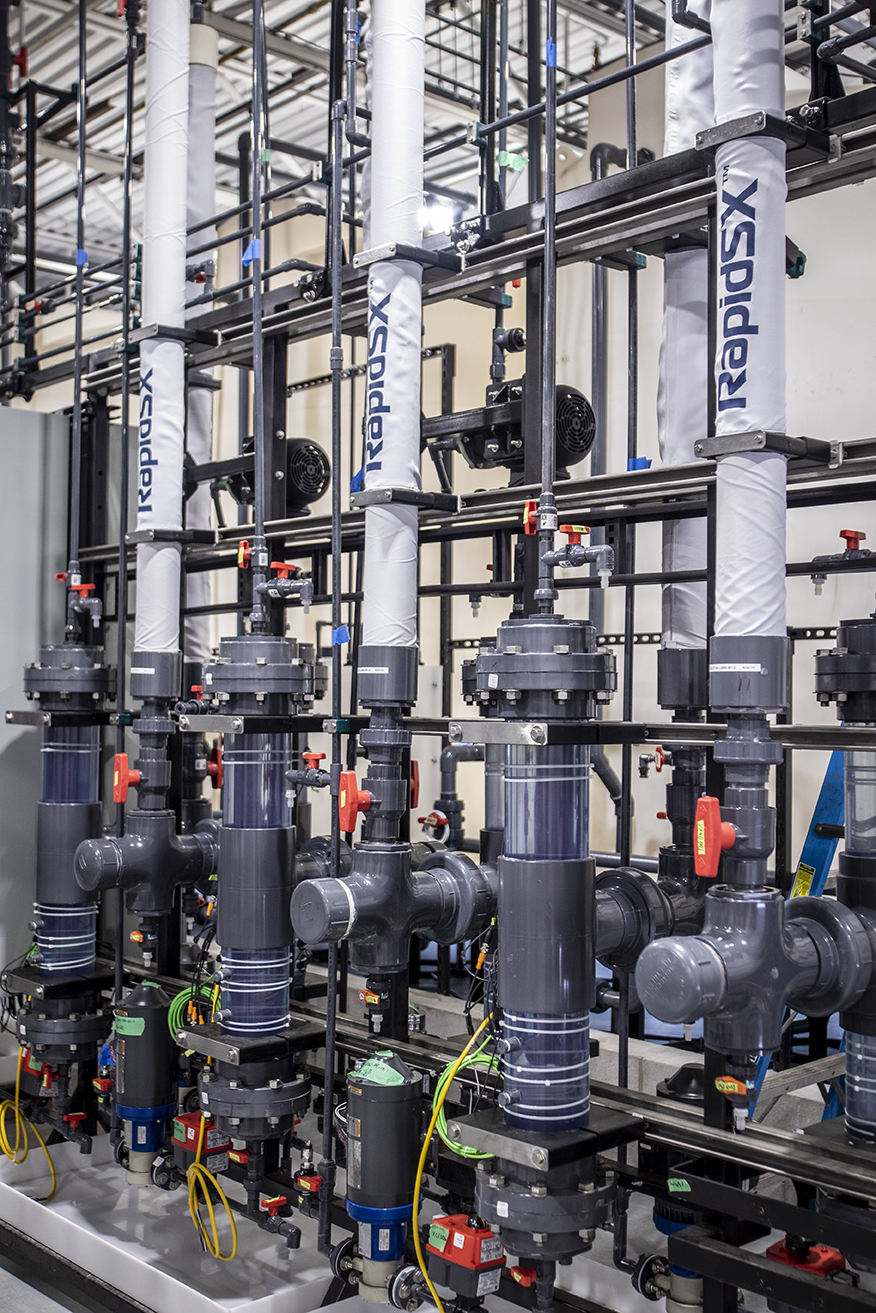 The RapidSX demo plant will show:
The techno-economic advantages of the RapidSX technology platform
The processing of tens of tons of heavy and light mixed rare earth element concentrates in a simulated production environment
The platform's ability to operate for thousands of semi-continuous run-time hours
Production of high-purity NdPr, praseodymium, neodymium, terbium and dysprosium rare earth elements for early OEM product qualification trials
The demo plant is located within Ucore's 5,000-square-foot RapidSX Commercialization and Demonstration Facility and is run by its laboratory partner, Kingston Process Metallurgy Inc. ("KPM").
RapidSX™ Technology
Innovation Metals Corp., acquired by the company in 2020, developed the RapidSX separation technology platform with early-stage assistance from the United States Department of Defense, later resulting in the production of commercial-grade, separated rare earth elements at pilot scale.
RapidSX combines the time-proven chemistry of conventional solvent extraction (SX) with a new column-based platform that significantly reduces time to completion and plant footprint, as well as potentially lowering capital and operating costs. SX is the international REE industry's standard commercial separation technology and is currently used by all REE producers worldwide for bulk commercial separation of both heavy and light REEs.
Utilizing similar chemistry to conventional SX, RapidSX is not a "new" technology, but it represents a significant improvement on the well-established, well-understood, proven conventional SX separation technology preferred by REE producers.
Strategic Metals Complex
Ucore, engineering partner Mech-Chem Associates Inc. and KPM are developing the full-scale engineering for the company's first Strategic Metals Complex (SMC). The SMC is a planned REE separation and rare earth oxide production plant slated to commence construction in Louisiana in 2023. It is scheduled to initially process 2,000 tons of total rare earth oxides by the end of 2024, increasing to 5,000 tons in 2026.
The company has three initial U.S.-friendly feedstock agreements in place for the Louisiana complex, along with multiple developing offtake agreements. It received a C$16 million+ incentive package offer from Louisiana Economic Development to support construction of the SMC.
Bokan-Dotson Ridge REE Deposit
Ucore has invested over C$35 million to establish and validate the Bokan-Dotson Ridge resource in preparation for mine design and permitting. Initial drilling is complete, and a Preliminary Economic Assessment has been issued. Next steps for the project include a feasibility study, detailed mine design and permit acquisition. The project can be "near shovel ready" for construction in less than 30 months after receipt of the next stage of development funding.
Market Opportunity
According to a report by Grand View Research, the global rare earth elements market was valued at $2.8 billion in 2018 and is forecast to reach a value of $5.6 billion by 2025, achieving a CAGR of 10.4% during the period. Market growth is driven by increasing demand for these elements in the manufacturing of magnets and catalysts for the automotive industry. Rising demand for electric vehicles to reduce CO2 emissions is expected to propel the use of permanent magnets in the production of EV batteries.
China is the major producer and consumer of REEs. To maintain self-sufficiency and to meet future demand, China has been raising the export tariffs on rare earth elements shipped to various countries, including the U.S., Japan, India, Brazil and the European Union. This led to the current supply-demand gap in these countries, as they rely on imports from China.
China reduced the exports of REEs by 72% in the second half of 2010 to preserve its reserves of these elements and continues to export REEs at reduced levels, thereby affecting industries such as automotive, oil and gas, and electronics, which require an ample amount of rare earth elements.
Management Team
Pat Ryan, P.Eng., is Chairman and CEO of Ucore Rare Metals. He began as a director with the company when he developed a heightened interest in critical metals. Before joining Ucore, he founded and led a multimillion-dollar automotive OEM design and lean manufacturing company. His understanding of complex supply chains across international markets has led to a prime positioning as the global auto industry transitions to vehicle electrification. He holds a Bachelor of Engineering degree from Dalhousie University.
Peter Manuel is Vice President and CFO of Ucore. Prior to joining the company, he practiced as a Chartered Accountant for more than 17 years, providing consulting services to companies in a range of industries, with a focus on the financial services and resource sectors. He spent 10 years in England and Ireland providing assurance, strategic planning, corporate finance and other consulting services to a portfolio of both public and private entities. He holds a Bachelor of Commerce Degree from Dalhousie University.
Michael Schrider, MEng, P.E., is Vice President and COO of Ucore. He is a multidisciplinary engineer who has been involved in manufacturing, engineering and managing complex structural and mechanical systems projects since 1989. He was the Founder, President and Chief Engineer of Schrider & Associates and Alton Bay Design, both engineering services firms. He holds a bachelor's degree in naval architecture and marine engineering from the University of New Orleans and a master's degree in mining, geological and geophysical engineering from the University of Arizona.
Mark MacDonald is Vice President of Investor Relations at Ucore. He has over 25 years of experience implementing award winning business development and marketing programs at regional and national levels. As Vice President of Sales, he was responsible for Mediapro Communication's growth as AT&T Canada's leading B2B sales partner. He subsequently became Atlantic Regional Vice President of AT&T Canada Corp. He holds a Bachelor of Commerce degree from Dalhousie University.
Additional Resources