FinovateFall 2018 is your chance to see the future of fintech, live on stage! Scheduled to take place on September 24-27, 2018, at the Marriott Marquis Time Square in New York City, this annual event serves as a showcase of cutting-edge banking, financial and payment technologies. Finovate conferences stand out among fintech events for their action-packed itineraries. Put simply, FinovateFall won't waste your time. The event's organizers specialize in getting right to the point, and they've been doing it successfully for over a decade.
More than 1,500 attendees are expected to be present for FinovateFall, as well as 100+ expert speakers from all sectors of the fintech space. The fast-paced nature of FinovateFall will be on full display as 80+ leading fintech companies provide demos of their latest solutions and innovations. There are no boring, drawn-out presentations here. Companies will have just seven minutes to show off their tech, and no slides or video are allowed!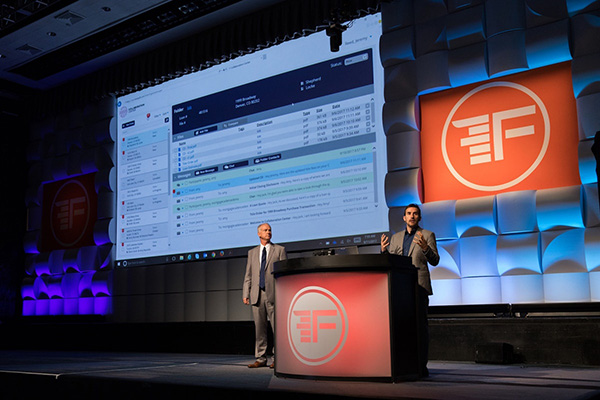 FinovateFall will also give attendees a chance to take a deep dive into the areas making the most noise in the fintech market – AI and blockchain. Two separately bookable summits will take place on September 27, offering expert insight into the latest business applications and successful implementations of blockchain technology and delving into the efficiency upside of artificial intelligence. These summits will run concurrently, giving attendees a chance to customize their own agendas to maximize impact and keep with the action-packed theme of Finovate events.
Those interested in recent developments in the crypto space won't want to miss the kick off keynote from Alex Tapscott, co-author of Blockchain Revolution and globally-recognized blockchain guru. Fintech developments outside of the blockchain industry will also be covered. In a discussion to be moderated by Sean Sposito, a cybersecurity analyst with Javelin Strategy & Research, an all-star panel of experts will take an in-depth look at the world of cyber security and risk management.
If you're looking for a way to get up to speed on the latest fintech developments and discover how they are shaping financial services around the world, FinovateFall is a can't-miss event. The Finovate team has pulled out all the stops to provide an unrivalled combination of generalized main-stage content and subject-specific tracks to help attendees see the complete picture of the ever-evolving fintech industry.
The short-form demos ensure that there will be no unnecessary filler or fluff to waste your time, and opportunities to speak directly to founders and senior executives from demoing companies prove that this isn't your typical trade show floor. Whatever excites you about the fintech industry, FinovateFall is sure to leave you with new ideas and a fresh outlook.
FinovateFall 2018
September 24-27, 2018
New York, New York
Conference Registration
---
Conference Highlights
FinovateFall is your chance to see the future of fintech, live on stage.
1,500+ attendees are expected to be present at this event.
Speakers and presenters include some of the world's top blockchain and fintech industry experts.
Keynote addresses by leaders from multiple fintech markets, including Alex Tapscott and Sean Sposito.
80+ innovative fintech companies will provide fast-paced, no-fluff demos of the latest innovations in financial technology.
Summits on AI and blockchain will close out the event, offering expert insight into the industry's most buzzworthy verticals.